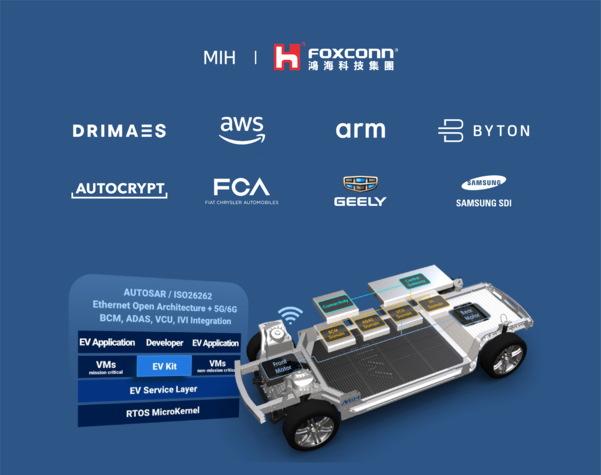 - DRIMAES was selected as one of the top 6 partners among 500 global partners.
- Cooperation in research and development such as autonomous driving systems in the future.
DRIMAES (CEO Im Jin-woo and Kim Guk-tae), a company specializing in In-Vehicle Infotainment (IVI) solutions, announced today that it had selected as a significant partner of MIH, Foxconn's open electric vehicle production support platform. Among the 500 partners worldwide, MIH chose as one of the six effective partners in the infotainment sector of MIH Global Open Electric/Autonomous Vehicle Platform (EVkit) by proudly competing with companies in the industry ARM and Siemens software. Only three domestic companies, including DRIMAES, Samsung SDI, and autonomous driving security company AUTOCRYPT, are participating as partners of MIH.

Taiwan's Foxconn, famous for being Apple's iPhone consignment producer, enters the electric vehicle industry beyond the iPhone and creates an environment where you can develop various core technologies and tools for electric vehicles through the MIH open platform. MIH is a software and hardware platform for electric cars launched late October. As an available system, developers can develop various core technologies and tools for electric vehicles on the MIH platform, drawing attention from the industry.

In addition, as the automobile market develops based on autonomous driving and electric vehicles, it is evolving into mobility devices such as various O2O services and pickup services that go beyond simply enjoying music and video. In line with the growing importance of information platforms that can embrace multiple external application services, it expects to take the lead in creating car Internet services and ecosystems by combining its excellent services with MIH and adding vehicle network software and hardware.

Kim Guk-tae, CEO of DRIMAES, said, "I am happy that it has been an opportunity for its technology to recognize by Foxconn. "We will continue to work closely with excellent domestic and foreign partners, including this partnership with Foxconn and cooperation with Naver Whale in Korea, to strengthen technology and provide valuable services to users in connection with vehicle information and control," he said.